Chaty – WhatsApp, Facebook Messenger, Telegram, Email, SMS, Viber, Chat & Call button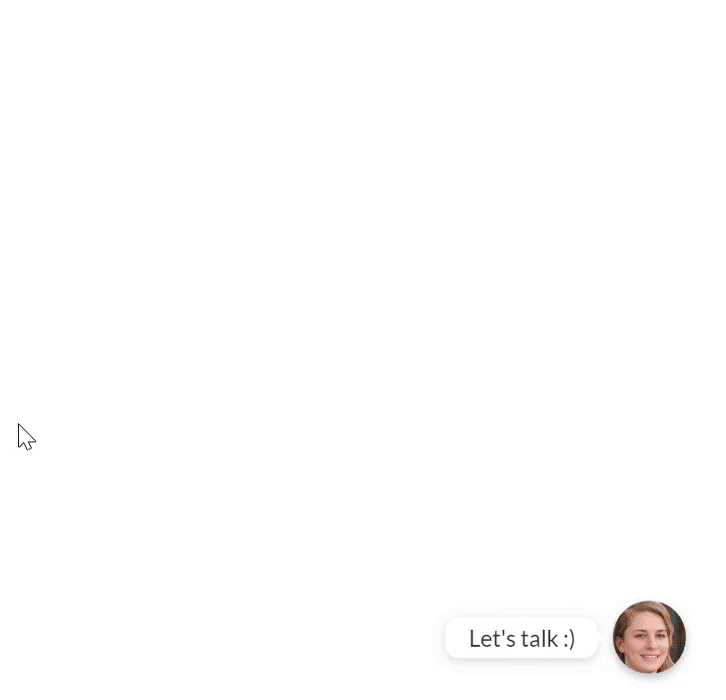 Chat with your website visitors via their favorite channels.
Show a chat button on the bottom of your site and communicate with your customers.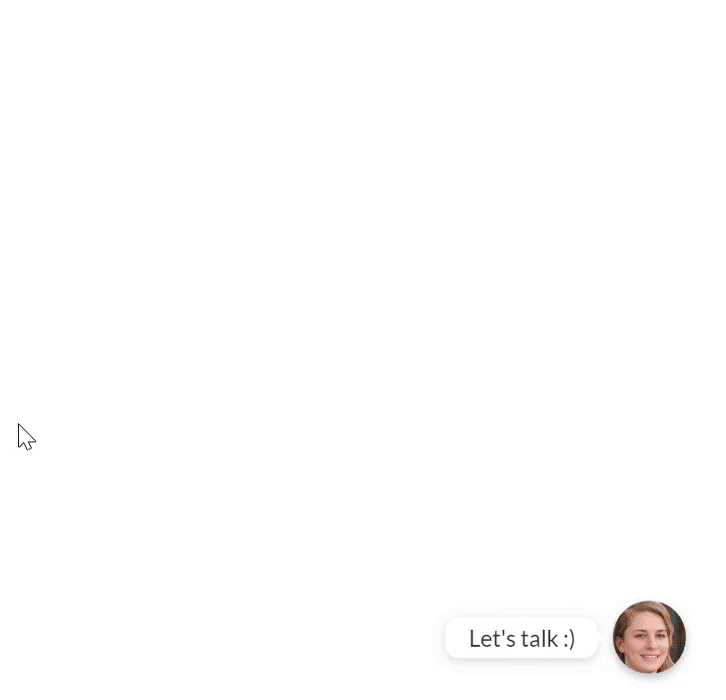 What Can You Use Chaty For?
Drive more leads to your business
Offer better customer support
Generate more foot traffic to your local store
Click to chat and Call now button
The Ultimate Click To Chat And Call Now Button
Convenience is the key to getting more leads to reach out to your business. With the click to call or chat now button, you make it easier for prospects to connect with you on their mobile phone or social media. There are 19 click to chat buttons and icons to choose from.
If this is what you're looking for, then Chaty is the ideal chat plugin for your website. You can use it for a variety of click to call, click to chat and many others applications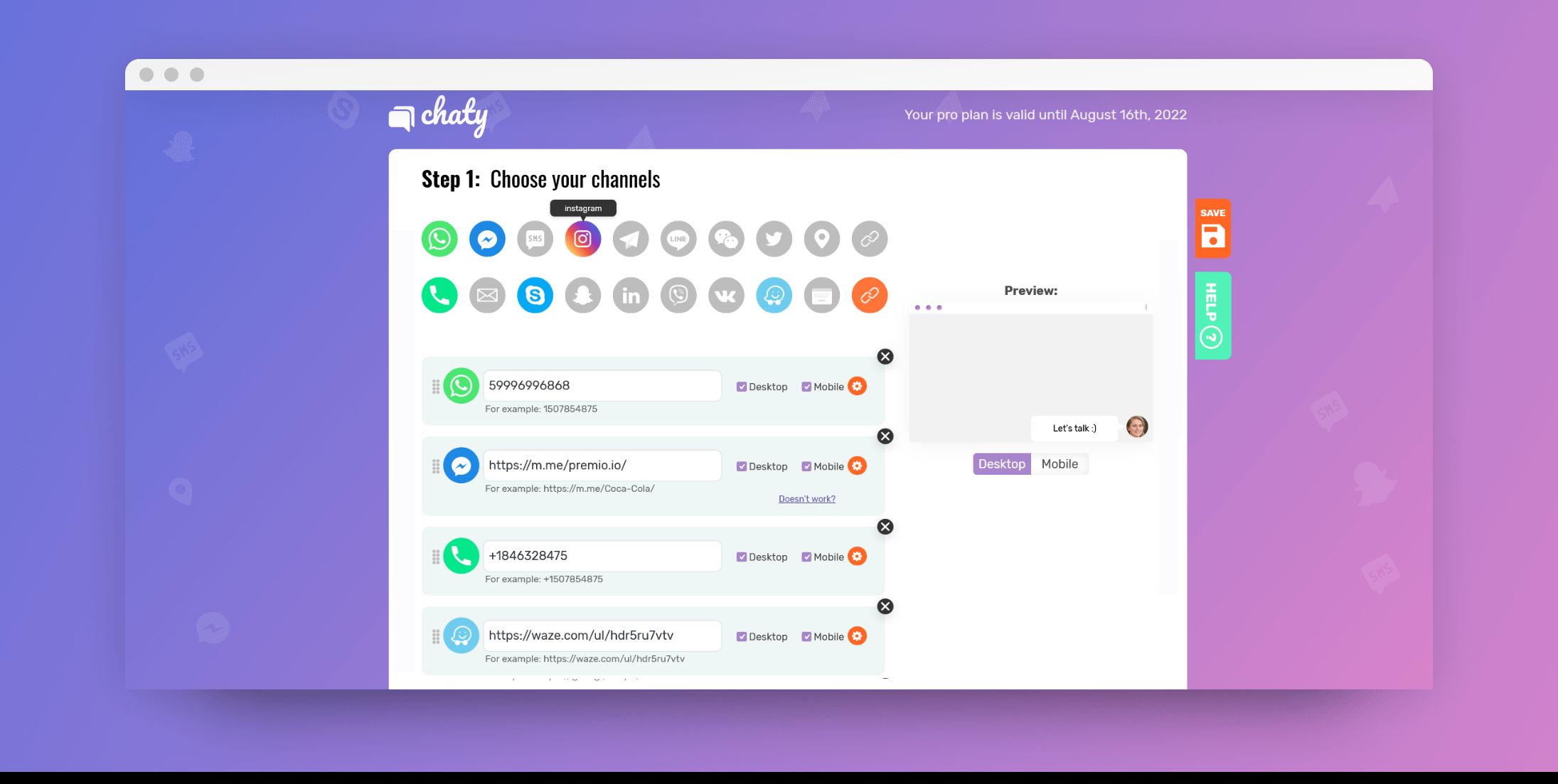 Choose From 19 Different Communication Channels
WhatsApp chat
Facebook Messenger
Email
SMS
Instagram
Snapchat
Twitter
LinkedIn
Skype
Vkontakte
Phone (click to call phone widget)
Telegram
Line
WeChat
Viber
Waze
Google maps
Link to an external channel/contact page (New feature: add 2 custom buttons and link to any URL you desire)
Launch a Poptin popup
Here's A Look At Some Of Chaty's Other Notable Features
You decide if you want to show the widget on mobile & desktop, or both!
Customize the color of your button using HEX code
Select the location of your widget using pixels
Manipulate the size of the widget
Upload your own button design or choose one of the premade options
Eliminate the "Get Widget" link on the button
Add a custom Call-To-Action beside your widget
Show different channels for mobile and desktop. E.g. On mobile you can display a call now button, Viber button, and a Telegram button, and on desktop you can display a WhatsApp button and a Facebook Messenger chat button.
Change the channel icons order using drag and drop interface.
New feature! Use targeting rules to select whether you want to show the widget on specific pages, or pages that begin or end with a string.
New feature! Fully customize your button using text on hover, different colors, or your own image on each button. Plus, you can translate "Hide" text on the widget
New feature! Create pre-set messages for your email subject lines and WhatsApp. Users will automatically receive your pre-set message when they click on your button or email icon
New feature! Trigger Google analytics events whenever a channel button's clicked. This allows you to track all actions, such as button clicks, navigation, chats, and so on
New feature! Choose whether chat button clicks open a new window or tab.
New feature! we've added 3 brand new buttons – Instagram, Twitter, LinkedIn, and an option to add 2 custom buttons.
How Does Chaty Work with Each Channel?
WhatsApp chat – Add your number to your widget, so when users click the click to chat button, their WhatsApp chat interface will launch. On desktop, a web WhatsApp chat interface will launch, opening a chat session.
Facebook Messenger – Add your Facebook business or fan page link so when users click the messenger button, a chat window opens. Users can send you a message here, and you'll receive notification in your page's inbox.
Email – Add your business email address so when users click the email button, their preferred email client (i.e., Gmail, Yahoo, or Outlook) will launch.
Instagram button – Add your Instagram username so users can click the instagram button to follow you or start a chat with your using Instagram direct.
Twitter button – Add your Twitter handle so users can send you direct messages or simply follow you.
Snapchat – Add your Snapchat username so users can find you on the platform. Snapchat is a multimedia messaging app that's grown in popularity worldwide. Users can chat, share live stories, and find news.
Skype – Add your Skype username so users can send a message or call you via the platform. Skype allows you to make a free digital voice call, instant message, and hold video conference calls. International calling to mobile and landlines is also available at an affordable rate.
Vkontakte – Add your Vkontakte username so users can contact you directly. This platform is a Russian social network but is available in multiple languages.
LinkedIn Icon – Add a link to your LinkedIn profile so users can send you DMs and connect with you.
Phone (click to call) – Add your business phone number so users can quickly call you at the push of a call button. This is a widely-used feature among smartphone users.
Telegram – Add your Telegram username so users can message you directly. Telegram is a VoIP service created by Telegram Messenger LLP.
Line.me – Add your line URL so users can contact you through the platform. This instant messenger is available on both desktop and mobile to send images, audio, video, and text.
WeChat – Add your User ID so users can find and communicate with you via the platform. WeChat is a multipurpose app that acts as a messenger, social media network, and mobile payment application. You can also upload a QR code with the pro plan.
Viber – Add your business number so users can call or message you using the chat now or call now button. It's a VoIP and messenger app.
Waze – Add your Waze location link so users can find your physical store location using the app. This GPS app works with smartphones and tablets that have GPS support.
Google Maps – Add your business location so users can find it on Google Maps and receive directions.
Link to external channel or contact page – Add the link to your web page (i.e., contact us page) to generate more leads to your site and increase chances of them reaching out to you. You can also upload your Facebook Messenger icon so users can click it and open a FB chatbot, such as Manychat, Chatfuel, or any other you choose to use.
Launch a Poptin popup – Add a direct link to the Poptin popup (found on your Poptin account), so it launches the popup contact form for users to fill out after clicking your button.
Chaty is GDPR-Compliant
No local data about users is stored by Chaty. Users that click your buttons are directed to the appropriate platform without saving any of their local data.
Chaty is a great alternative to live chat plugins like Live Chat Unlimited, WhatsApp Click to Chat Plugin for WordPress, WordPress, BuddyPress Users Chat Plugin, Facebook Chat for WordPress, PHP Live Support Chat, WhatsApp Chat WordPress, Live Chat Complete, WordPress WhatsApp Support, Uber Chat, Wchat, and Whatshelp
Frequently Asked Questions

Will Chaty work with any theme and page builder?
Yes! Chaty works great with all themes and page builders including Elementor, Divi, Visual Composer, WPBakery Gutenberg, WooCommerce and more

Can I show a Click To Call button and sms button on my site?
Yes! Just choose the Phone icon and add your phone number.

Which buttons are available with the Chaty plugin?
WhatsApp chat, Facebook Messenger, Instagram, Email, SMS, Snapchat, Twitter, LinkedIn, Skype, Vkontakte, Phone (click to call), Telegram, Line, WeChat, Viber, Waze, Google maps, 2 Links to an external channel/contact page, Launch a Poptin popup

Does Chaty work on mobile?
Yes! You can even decide what channels will show up on each device (desktop/mobile)

Is there a live demo for Chaty
A live demo for the Chaty plugin is available at Premio's demo site

Does Chaty support RTL sites?
Yes, we fully support RTL sites including Arabic, Hebrew

Do you offer refunds?
If you are not satisfied with the plugin or it doesn't work for you for any reason, you can email us at

[email protected]

within 30 days after your purchase and you will get a refund.

How do I choose the communication channels I want to display on my site?
After you installed the plugin and activated it, go to the "Chat" tab on your WordPress admin panel, and click on the channels you want to add. Then, fill out the information in the relevant fields.

Can I change the location and the color of the widget?
Yes! You can control the location and choose a color from your WordPress Chaty tab.